Adult Tennis Camps
Join our 7-day or long weekend adult tennis camps in many different locations: Barcelona, Gran Canaria, Mallorca and other!
Share our love for tennis
We organize adult tennis camps in Barcelona and other beautiful spots in Spain as well as internationally. Carefully chosen exotic locations such as islands and sunny coasts feature excellent tennis facilities. You can go on a 7-day or weekend camp during which you will elevate your tennis game to the next level, boost your fitness level and stamina, meet like-minded tennis players and enjoy many more benefits of such active holidays.
Navigate to:
Tennis Camp Program
A typical full week camp program includes:
– Welcome Day with drinks, tapas and social game. This is the first day of the camp when we get to know each other.
– 5 days of group tennis coaching, 3 hours every day (total 15 hours)
– our groups are limited to 4 players per court
– there are two levels: beginners/intermediate and intermediate/advanced groups
– we use video recording and analysis
– 1 private lesson any time
– 5 days of off-court fitness training, 1 hour every day (total 5 hours)
– this training is tennis specific and may include exercise in the gym or outdoor
– Social Tournament and BBQ on the last day of the camp
Currently, you can choose from three carefully-designed tennis programs that cover different objectives:
PERFORMANCE CAMP
You will improve your technique, footwork and competitive game. You will start thinking strategically when playing a point. We will use video analysis to improve your technique.
RECREATIONAL CAMP
You will improve your fitness, general technique and gain abilities to win more matches against your friends, in both singles and doubles. If you like playing social tennis matches, this is the camp for you.
ITN CAMP
International Tennis Number is a reference for your consistency, accuracy and depth of all your strokes and this is what you will improve when you join ITN Camp. We will measure your ITN at the beginning and at the end of the camp.
Tennis training is usually in the morning and during afternoons we organize trips and other activities for participants which they are invited to join. Some of the afternoon activities that we have organized are golf playing, sea caving, trekking, as well as cultural and nature exploration trips to visit interesting spots.
Take a break and play tennis during your holidays!
Booking Enquiry
[contact-form-7 id="7119″ title="Adult Tennis Camps Booking Form"]
Tennis Camp in Gran Canaria 2016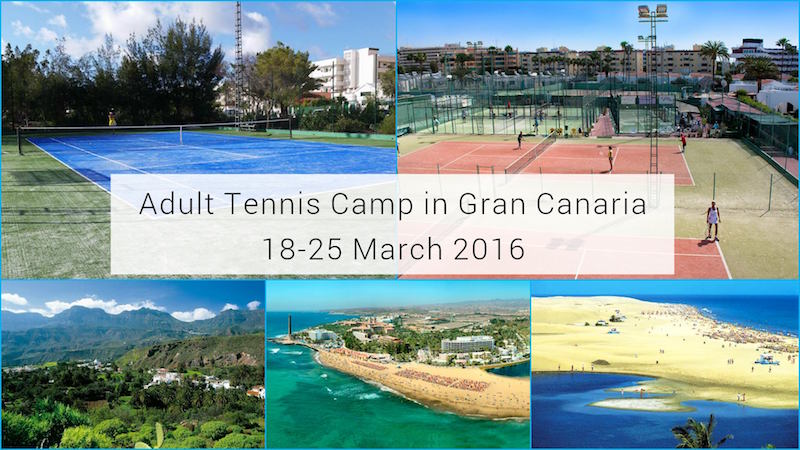 Tennis Camp in Mallorca 2015