Take tennis lessons in Barcelona
Not sure what type of tennis lesson is best for you? Let's learn about the similarities and differences between a private, semi-private and group tennis lessons.
Depending on your personal preferences and tennis objectives you might want to choose a specific type of tennis training we give. Compare tennis lessons below.
Tennis lessons: similarities
In each type of tennis lesson there are certain elements that are different and some other aspects that are common in all tennis trainings.
Let's start with what is shared.
Objectives

All tennis lessons should have objectives, both short-term and long-term. These can be focused on improving your tennis technique, working on your fitness and correct footwork, learning tennis strategy and tactics, as well as other subtle but important elements of tennis game such as mental strength and playing under pressure.

Training structure

The structure of each tennis lesson should be fairly similar. The training should start off with a warm-up of all your muscles and joints, followed by core tennis drills and finished with cool-down activities and stretching. This structure follows some common rule that guarantee you take a full advantage of your tennis workout.

Tennis level

Any tennis lesson is adaptable to players of all tennis levels from beginners to intermediate to advanced and competitive tennis players. It means that, regardless of your level, you should never stop training because there is always a detail you can improve and later practice when playing matches or else you wish to get rid of a bad habit that makes you lose confidence.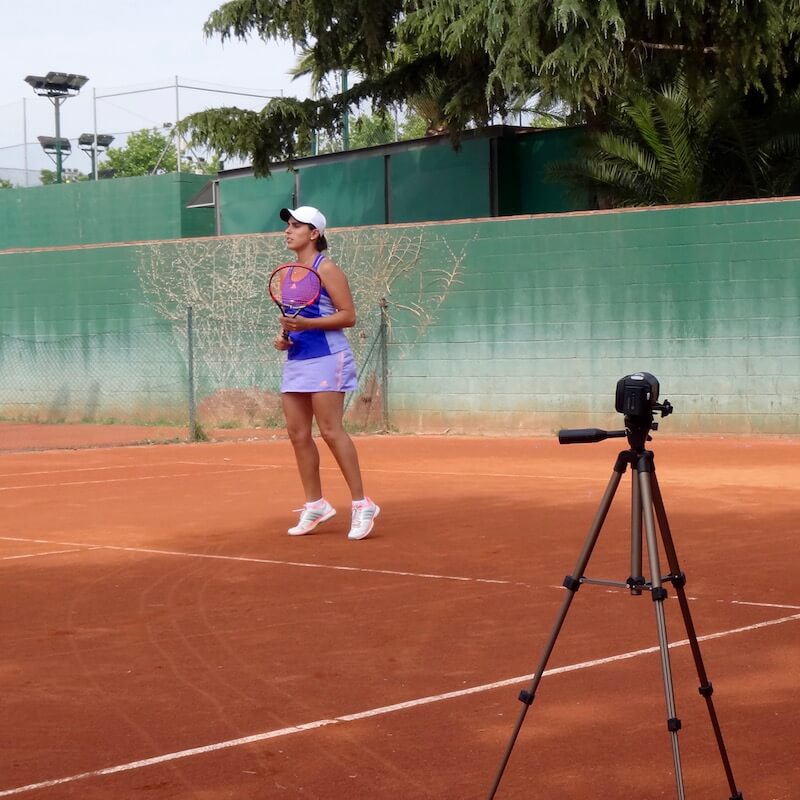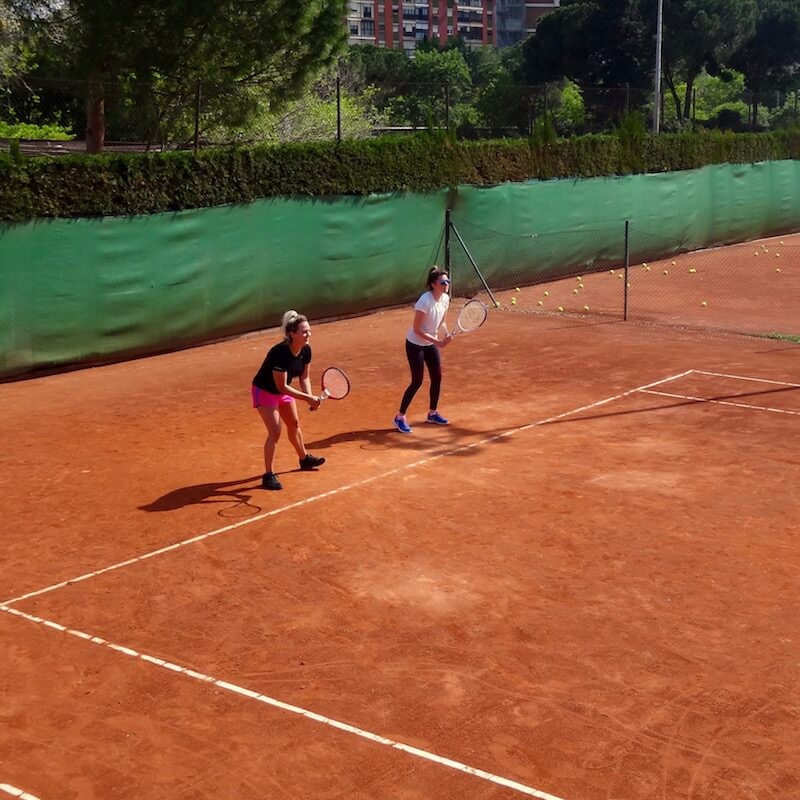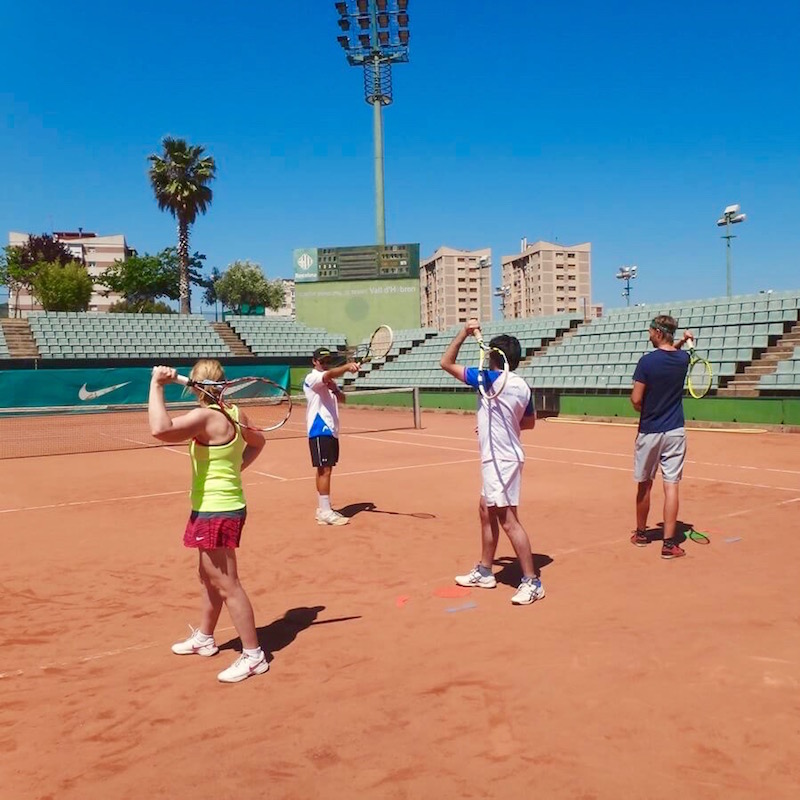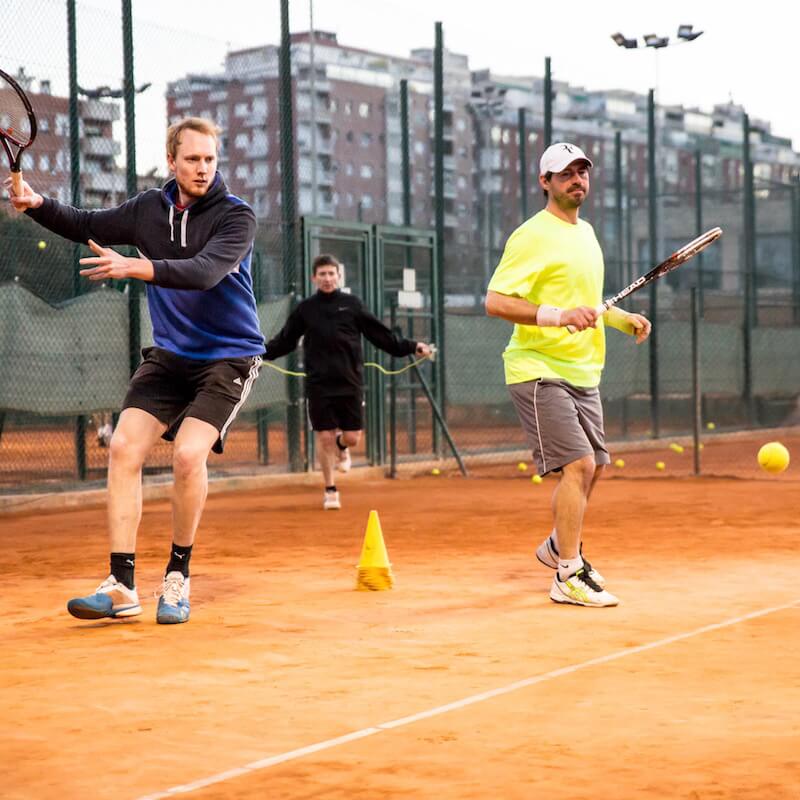 Tennis lessons: differences
Now that we know what similar components we can expect from each tennis lesson, let's look at differences.
Number of players

A private lesson is a one-on-one tennis training, so for 1 player. You might request a sparring partner but all the instruction will be centered only on you. In a semi-private tennis lesson there is two players sharing a training. Two tennis friends of the same level can decide to take a lesson together without anyone else. We also match similar players to do a semi-private training. In a group lesson there is up to 5 and in cardio tennis up to 8 students with one coach, so it is a great way to make friends with similar players.
Private tennis lesson
PLAYER
Semi-private lesson
PLAYERS
Group tennis lesson
PLAYERS
Cardio tennis lesson
PLAYERS
Number of tennis balls you hit

By rule of thumb you would normally think you hit more balls during a private tennis training than in a group or cardio tennis training. However, this might not always be the case. In a private tennis lesson, if you require a lot of breaks to go through verbal instruction and tennis technique, you might actually be hitting less balls. On the contrary, if a group or cardio tennis lesson is dynamic and with less pauses, then you end up hitting lots of balls. So the final number of balls you will hit depends on the objective of the lesson and the intensity of the workout.

Attention from the coach

If your tennis style has a unique personality that requires individual attention from the coach, then a private tennis lesson is best for you. It is the most intimate type of tennis lesson. Similarly, in a semi-private lesson you will receive a lot of coach's attention too, however, you will also get brief "rest" periods when you can pay attention and learn from what the coach is saying to the other player. A group lesson is where the coach is attentive to everybody's needs as much as they can but in most times they would explain tennis concepts to the whole group rather than to a single player.
Private tennis lesson
ATTENTION
Semi-private lesson
ATTENTION
Group tennis lesson
ATTENTION
Cardio tennis lesson
ATTENTION
Setting the tennis objective

When you come to a private lesson the objective of the lesson is tailored to your tennis game and your particular preferences. It is up to you and the coach what the priorities should be. In a semi-private lesson the objective is shared by you and your partner but this should also be agreed and personalized before each class. In a group lesson however, setting an objective for the class stays in coach's hands and they have to be able to adapt it to all players within a certain level. In cardio tennis the objective is very clear: improving your fitness level through tennis.

Social aspect

During group tennis lessons you will interact with a lot of like-minded players of the same level as yours and you will have a lot of fun as it is a very social activity. Group lessons are a chance for you to meet new players who can become your tennis buddies for life. Private tennis lessons on the other hand are very intimate where you create a bond with the coach. In semi-private tennis lessons you will train with another player of similar level and when you play points during the training it is reflecting the reality of playing a tennis match together.

Arranging the lesson

Private tennis lesson is the easiest to arrange since only the player and the coach both have to agree when to train and then they meet on the day. That's it. Semi-private tennis lessons are a bit more challenging to arrange as there has to be a consensus between two similar players and the coach about when to train. It is a certain type of commitment between two players and the coach. Group lessons, on the other hand, happen on certain fixed times of the week when the players are free to join if they can but they can not change the time of the training.

Prices and packs

Prices for the tennis lessons are also different for each type. Private lessons are the most expensive of all. The individual tennis training can cost between 50 and 80€ / 1h depending on the day and time. With semi-private training, you pay less than with private, and still get a lot of the coach's time. A price per player for a semi-private training can be between 36 and 46€ / 1h. Group and cardio tennis lessons are the least expensive. For one and a half hours of a group training you would pay about 30€. Check out each training page in detail to get more information about saving packs.
Choose your tennis lesson
After you have learnt about the differences between our tennis classes, it is time to dig into each one in detail.