If you are looking for qualified and dedicated tennis coaches in Barcelona you are in the right place. We are Javi and Gaby, two professional tennis coaches with many years of experience teaching adults and kids how to play tennis.
We are proud to say that during the years of coaching we have improved the tennis game of hundreds of players. It is largely thanks to our own way of teaching based on planning, setting objectives, progressing from easy to difficult, and incorporating fitness and mental elements.
Among our players are local kids and adults, international expats and students as well as tourists and travelers to Barcelona. What they say is the reflection of what we do. Take a moment to read our story and bios; however the best way to get to know us is by arranging a tennis practice. See you on a tennis court!
We met in 2012 and instantly felt the connection and compatibility to start working on tennis projects together. We both went to Australia to teach and practice tennis as well as travel across this amazing country. We returned to Barcelona in 2014 and set up FIT IN TENNIS with the aim of creating opportunities for all to learn and play tennis. During 2015 and 2016 we both pursued our
Tennis Coaching Qualifications
(Level 1 and 2) at the Catalan Tennis Federation. Since then we never stopped learning and researching tennis topics as well as studying other relevant fields such as fitness training, rehabilitation from sports injuries and sports nutrition. In 2018, at the request of our tennis players, we started our
YouTube channel
for all of you who want to see how we train and watch our free online tennis lessons and fitness workouts.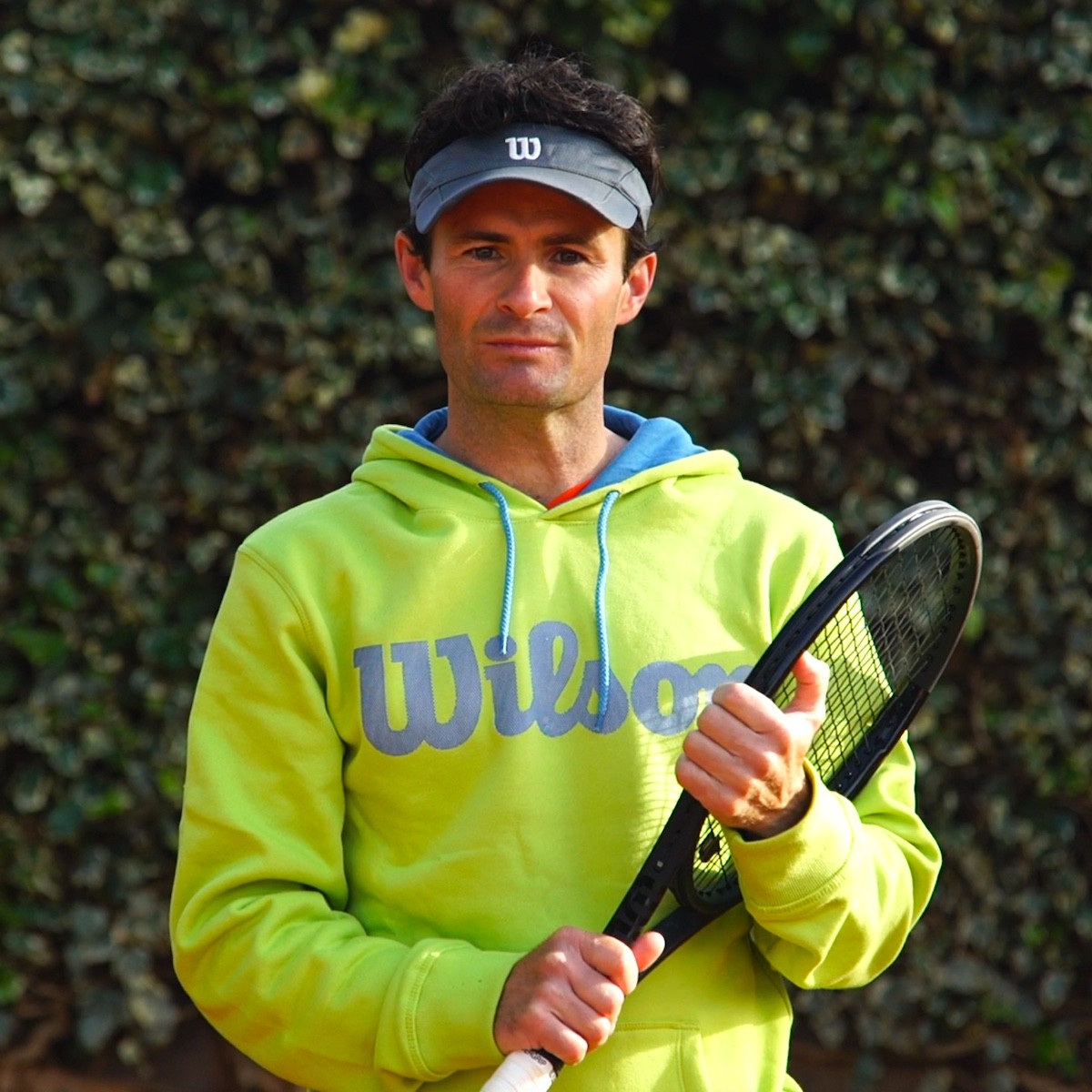 Javi and Gaby are professional tennis coaches in Barcelona.
Javier is a Professional Tennis Coach with over 20 years of coaching experience in Spain. While in Australia he was teaching tennis in different academies including The King's School in Sydney. In Spain, he coached national and international players in several tennis academies including Laietà Sporting Club and Bruguera Tennis Academy. Currently, he is mostly coaching junior competition players as well as adults of all levels. In the past, he travelled with professional players to tournaments.
In his free time and when on holidays, Javier is an avid golfer and windsurfer. He is not afraid of trying new sports, such as horse riding, surfing, diving or boxing. He loves dancing salsa but he can talk to you about football too.
Follow Javi on Instagram.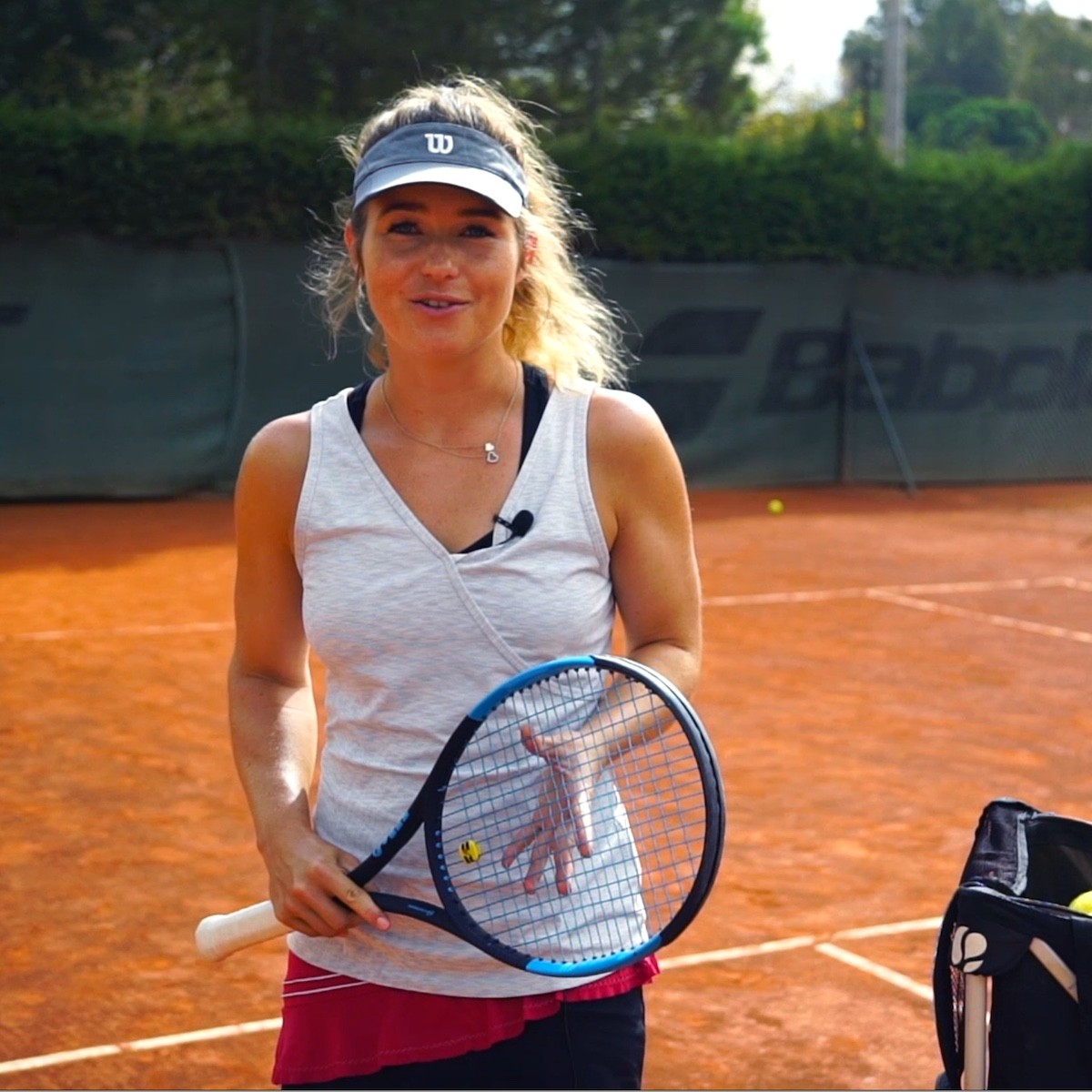 Javi and Gaby are professional tennis coaches in Barcelona.
Gaby is a Professional Tennis Coach with passion for tennis since she was 7 years old when she first picked up a tennis racket in Poland. She played through University and won a couple of University tournaments. She never stopped playing and currently she competes in ITF Senior tournaments and Interclub Leagues. Gaby worked as a Cardio Tennis coach in Sydney and she loves the combination of dynamic tennis and music on court. Now, she enjoys running adult group trainings and being a fitness trainer for some of her players.
In her spare time, apart from practicing sports and getting fit, Gaby loves researching and cooking healthy foods. She is also keeping our website up to date and creating new engaging content for our tennis players and fans.
Follow Gaby on Instagram.
Javi and Gaby are professional tennis coaches in Barcelona.
Every professional tennis coach in Spain is obliged by law
to meet certain requirements
in order to practice this profession. They include being legally employed, possessing relevant coaching qualification, being registered in ROPEC, having third-party insurance and undertaking first aid course every year. We not only meet those requirements but go much further and pursue continuous education to expand our knowledge about tennis. We strive to undertake relevant courses, join industry seminars, analyse latest research and read tennis coaching magazines. We want to stay on top and share this knowledge with you in every tennis training.
---
Level 1 Tennis Coaching Qualification
Tennis Instructor title from the Catalan Tennis Federation allows us to teach tennis to beginner and intermediate players of all ages.
Level 2 Tennis Coaching Qualification
Tennis Coach title from the Catalan Tennis Federation prepared us to give tennis training to advanced and competition players as well as travel with them to tournaments.
Registered in ROPEC
By registering our activity in the Official Register of Sport's Professionals in Catalonia we can legally exercise tennis coach profession.
Third-party insurance
We possess a third-party (liability) insurance that secures compensation to our players for any damage or loss from an accident.
CPR and First-Aid Certificates
We undertake CPR and first aid trainings annually so that we know exactly what to do in case of an accident or injury on court.
Certified by RPT
Javi has completed a comprehensive Level 1 to 4 course at the Registry of Tennis Professionals and received Professional Tennis Director Certificate.
Cardio Tennis Coach
Cardio Tennis Qualification from Tennis Australia gives Gaby the foundations to run dynamic cardio tennis sessions accompanied with music.
Certified Fitness Trainer
Fitness Trainer for Tennis Players Certificate from Ereps Europe Active allows us to give conditioning advice to help our tennis players stay in shape.
Sports Nutrition Specialist
By undertaking the Sports Nutrition and Conditioning course at Alto Rendimiento we learnt to give nutritional recommendations to our players.
Years of experience teaching tennis
For 25 years we have coached players of all ages and tennis levels, from different countries and backgrounds.
At FIT IN TENNIS, we have a passion for tennis and teaching. Our ultimate goal is to bring positive change to as many people as possible through tennis and to grow the sport as a whole. We strive to involve more individuals like you in a game of tennis by offering opportunities to learn the game, find similar players, play tennis tournaments and join tennis events in Barcelona.
Not only do we teach how to play tennis but also, and more importantly, we are building a tennis community by:
Offering group tennis lessons and tennis clinics where everybody is welcome
Organizing tennis events such as tennis social tournaments or tennis dinners
Running weekend and week-long adult tennis camps in Spain and other countries
Providing tailor-made corporate tennis training for your company's employees and business partners
Helping you find the right tennis partners to play social matches with
Giving advice on playing tennis in Barcelona, joining clubs, playing federated tournaments etc.
As professional tennis coaches in Barcelona our aim is to keep growing the biggest community of tennis players in the city. Currently, we have more than 1500 players registered on our Meetup page who train and take lessons and more than 700 players who are actively looking for partners to play. In recent years, we've had the pleasure of teaching tennis to more than 900 players both local and from around the world. Our tennis players fall into one of those groups:
Local tennis players who want a high-standard tennis workout to improve their skills, get fit and meet like-minded people

International expats and students who want to train tennis without becoming a long-term tennis club member
Tourists and travelers to Barcelona who want to get a taste of Spanish tennis while visiting Barcelona
Teaching has always been a gratifying experience for us for many reasons. First, we are extremely proud of being able to introduce new-coming players to this satisfying sport. Second, we are happy to have successfully re-engaged many amateur players back into tennis after long breaks. Next, we are delighted to have seen our players competing and winning tournaments. And lastly, we are lucky to hear so many new personal and exciting tennis stories every month. Contact us, share your tennis journey with us and become one of our tennis players.
What our students think about our tennis trainings and their tennis experience is very important to us. We love feedback and we use it to get better at what we do. Here you can read through some of the many players' testimonials we have received over the years and we are adding fresh comments every month. Our player's own words are probably the best description of what we do.
If you have been playing tennis for many years yet haven't achieved the level you want, Fit In Tennis is the place to go. I've been playing tennis for over 20 years but never met any instructors like Gaby and Javi who would work with you so tirelessly to improve your game. They will design a personalized training program to correct your bad habit, sharpen your basic strokes, and improve overall game strategies. They will just not let you give up until you get it! So as long as you stick to them, you are guaranteed to see your game improve. (After a year of training, my teenage son made it to the No. 1 player at his school tennis team!) Lastly, Gaby and Javi are not only terrific instructors (not to mention their fluency in English) but also superbly nice and fun.
Both Gaby and Javier are excellent and professional Tennis coaches. They don't just teach you the techniques, but also transfer their passion of tennis to you too. The class is fun, motivated and with a very flexible timetable. No matter what levels you are, you can adapt easily to your group. You meet great people from all over the world, while learn, train or improve your tennis skills. Highly recommended.
I wanted to take a tennis course in Spain to learn from the clay specialists. Fit In Tennis provided me easily a very complete lesson for advanced players in a very beautiful venue! I come back in Canada with numerous meaningful technical tips. Enjoy our passion!
Gaby and Javi are the best. They take so much care and are loads of fun to learn from. They teach in an engaging way to make sure that we are always getting better. Thank you for the awesome class.
I took part both in a group and semi-private classes during my stay in Barcelona. It's absolutely worth doing and trying. It's not only about practicing tennis and learning something new from high-profile coaches, but also about socializing and making new friends. Excellent job, guys!
I had a great week playing tennis at Fit In Tennis with Gabriela and Javier. I learned a lot, I really enjoyed playing on clay, and I think I improved a lot, not just tennis strokes but fitness as well: the exercises are all a mix of technique and cardio. I thought that aspect was great. Of course it was hard at the beginning of the week, but at the end, I felt I had much more endurance, which is another great point. The installations at club are pretty nice also. I wish we had something like this in Montreal.
Had some great private lessons with Javier, he's really good at narrowing down the scope, really think about what to focus on and what to ignore (for now) to make real improvements, in the right way. Also, it was great fun! Will be coming back!
I am a regular participants at all the classes and camps of "Fit in Tennis" and highly recommend it. Gabriela and Javi are professional, organised, and fun; and they really care about improving one's tennis game on all levels: mental, physical and technical. They organise classes and camps for all levels as well, with one goal for all levels: improving your tennis while having fun and strengthening your fitness. They are the best around Barcelona!!
We do tennis lessons whenever we travel abroad and we had a great time training with Gabi and Javi in Barcelona. Javi worked with my wife and I for a couple of days and we picked up a lot of good tips. He has a lot of experience and it shows. It was easy to coordinate and book the lessons and a breeze to get to the club on the metro. I recommend Gabi and Javi to anyone looking to play tennis in Barcelona!
We arrived from California to Barcelona for our honeymoon and wanted to play a little bit of tennis. We found Fit In tennis on the Internet. And wow wow we were delighted to find such a wonderful tennis coach and fabulous experience at the tennis club. It was like living in Spain immediately. Nice club and coffee after at the restaurant and bar! The coaching was superb on mechanics and very detailed. We had no problem with the language. Javier spoke wonderful English we liked him so much we scheduled a second lesson for a couple days later. Highly recommend working with them!!
Top notch experience from coaching, organizing skills, schedule flexibility and a lot of humor. Gaby was great in how she handled a big group of people at various levels that met for the first time on the court. Javier brings tons of experience and patience during private lessons - he focused on few important aspects and was not happy until he saw clear improvements and confidence on my forehand.
Gaby has a wonderful way of coaching a class of tennis players and making you feel really taken care of. She took the time to show me a new grip on my serve that made a real difference and also helped me understand that I'm a natural single handed backhander and shouldn't try to double hand my returns. In just one class I felt a great improvement, had lots of fun and was disappointed that 90 minutes had gone so fast. I will be back soon for more!
Strong capabilities from Javier and Gaby to coach and motivate all tennis players from beginners to advanced players. Why? Very good tennis skills (theory and practise), friendly and open-minded (international courses mixing easily players from all countries), flexibility of courses (pay as you go).
I completely recommend Javier's for any touring or advanced players that need a place to train for a few days while in Barcelona. I visited Barcelona for around a week and needed a place to train and a friend recommended me Javier. I currently train in Boston and play future level tournaments so I was in need for a coach that would pick up right away what I was working on and also added value to my game. Javier was just that. He has the experience and knowledge. Definitely consider him if you are in the area and need a good place to train without having to go to a huge academy where you become one more.

Gaby also was of tremendous help when it came to fitness tips on the go, specially when traveling.

On a side note, both of them have always followed up and help me way after my short visit. Shows how much they care of my tennis development.
I took part in semi-private classes and after the first class I asked myself: why I didn't find this club before?! Mix of practicing tennis, learning techniques and also cardio make these workouts very dynamic and fun. I'm looking forward to try group classes too!
The tennis camp in Mallorca was intense and great fun thanks to Gaby and Javier! Definitely recommend it to anyone who is looking to hit some balls by the sea and improve their skills!
Just did a 5 days tennis camp with Gabriela last week. This was the beginners level and the group usually had 2 to 3 other players. The classes were very structured. The coach is fun and she has a lot of patience for each student. She know how to explain the exercises very well and I learnt and improved so much in such a short time. It was a very intensive week (10 hours of tennis in 5 days!) but definitively worth it. I can't wait to do another camp again.
Recomiendo las clases de Gaby y Javi a todos aquellos que nunca han jugado al tenis como los que ya tienen cierto nivel, para los que no disponen del tiempo suficiente o tienen una vida laboral intensa ya que hay flexibilidad de horarios y también para las personas que llegan a vivir a Barcelona y hablan poco castellano pero quieren practicar este deporte, ellos explican la clase también en ingles, para los que, además, quieren integrarse con un grupo de gente divertida y pasárselo bien e ir viendo el progreso clase a clase, Fit In Tennis es el lugar!
He empezado a jugar a tennis con Gaby y Javi y son unos excelentes profesores. Fui un día para probar una clase y me he enganchado mucho a este deporte gracias a su pasión y su manera de transmitirlo a sus alumnos. Además la posibilidad de jugar en las mejores pistas de la ciudad y su flexibilidad para poder compaginarlo siempre con tus horarios laborales. Recomiendo totalmente sus clases!
Empieces de cero o sea cual sea tu nivel van a saber lo que necesitas para mejorar, las clases son divertidas y dinámicas, abunda el buen rollo y te sientes integrado en seguida, conoces a gente de otros países, los horarios son muy flexibles y siempre tienen propuestas nuevas, los grupos son reducidos y el trato es muy personalizado, y lo que más me gusta es que organizan torneos para todo tipo de niveles, desde principiantes hasta jugadores avanzados.
Seit mittlerweile über einem halben Jahr nehme ich regelmäßig am Training für Fortgeschrittene mit Javier teil. Die Stunden sind sehr gut vorbereitet, abwechslungsreich und Spaß kommt nie zu kurz. Javier hat viel Ahnung, erkennt technische Feinheiten und geht auf individuelle Bedürfnisse ein. Was ihn aus meiner Sicht besonders auszeichnet ist, dass es ihm persönlich wichtig ist, Leute voranzubringen. Auf dem Platz ist immer gute Stimmung und auch abseits des Platzes organisieren Gabi und Javier interessante Events.
Gaby y Javi han despertado mi interés en el tenis gracias a sus forma de enseñar, a sus pasión y a sus ser gran motivadores. Con ellos no se trata solo de acudir a clase sino de descubrir un mundo deportivo lleno de actividades cercanas. Su flexibilidad y disponibilidad son inconmensurables como la oferta de jugar en pleno centro de la ciudad y a horarios compatibles con el trabajo tanto durante la semana como en el fin de semana. Estoy super contenta de haberlos encontrado y de haber empezado a practicar con ellos. Recomendados a todos los que quieran disfrutar del tenis en un ambiente amistoso y profesional a la vez.
5 stars to Gaby and Javi! Not only were the drop in classes flexible and easy to coordinate with my hectic schedule but also they were fun and very instructional. I had played tennis for years growing up but had lost form and muscle memory after 8 years of not playing. It was easy to join the classes right away, no matter how long I had been away that time or how inconsistent my strokes were. I would jump back into drills, get great instructions to fix my shots and, most importantly, enjoy playing every time! Only great things to say about the sessions!
Profesores con gran nivel técnico que te corrigen cada detalle para que puedas mejorar tus habilidades durante los entrenamientos y partidos. Y todo en un ambiente fantástico!