We don't just teach how to play tennis…

We are building a tennis community by:
At Fit In Tennis, we have a passion for tennis and teaching. Our mission is to involve more individuals like you in a game of tennis by offering opportunities to learn the game, play tournaments, and join tennis events, tennis lessons and tennis camps. Likewise we do our best to create a platform for sharing and discussing tennis topics, tennis news and hearing individual tennis stories.
Meet the Coaches
We are a team of professional tennis coaches with many years of experience teaching adults and kids how to play tennis.
Javier Fernández
Javier Fernandez is a Professional Tennis Coach with over 19 years of coaching experience in Spain. Last year he spent almost a year in Australia teaching tennis in different academies including The King's School in Sydney. In Spain he coached national and international players in several tennis academies including Laietà Sporting Club and Bruguera Tennis Academy. He is coaching beginners, junior competition players as well as adults of all levels. In the past he travelled with professional players to tournaments.
Apart from tennis Javier is an avid golfer and paddle tennis coach. He enjoys learning new sports like surfing that he practiced while living in Australia. He loves cooking and dancing salsa as well.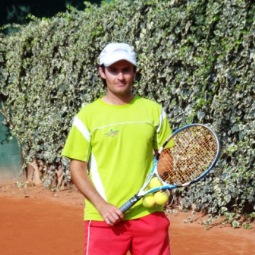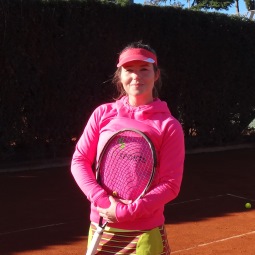 Gabriela Korolczuk is a Professional Tennis Coach who gained her title just this year. However, she has had passion for tennis since she was 7 years old when she first picked up the racquet in Poland. She played through University and won a couple of University tournaments. She never stopped playing socially and now she enjoys teaching tennis to adult beginners and intermediate players. Gabriela worked in Manly Tennis Academy in Sydney where she coached Cardio Tennis. She did Cardio Tennis coaching course from Tennis Australia and she loves the combination of tennis and music on court.
In her spare time, apart from practicing sports and getting fit, Gabriela loves designing websites and creating new content. In 2014 she took a Digital Marketing course and since then she became enthusiastic about creating an engaging online experience for her tennis fans.
How we started Fit In Tennis
Our story is simple. It all happened so fast. We met in 2012 and instantly felt the connection and compatibility to start working on tennis projects together. We both went to Australia to teach and practice tennis as well as travel across this amazing country. We returned to Barcelona in 2014 and set up Fit In Tennis with the aim of creating opportunities for all to learn and play tennis.
Currently, we are based in Barcelona and therefore, most of our tennis programs take place in this inspiring and vibrant city. Yet, we love travelling and organizing international tennis camps in other countries. We both love playing tennis, staying fit and eating healthy.
Contact us
"Awesome! Very professional, enlightening, intense and fun tennis training sessions. Gaby and Javi are two tennis wizards."Ramon Burgos, from Spain
"I'd definitely recommend the Fit in Tennis programs! Javier and Gaby are both fantastic teachers and they do the classes in a really fun way as well."Stuart Jones, from Australia
"Gaby and Javi are the best. They take so much care and are loads of fun to learn from. They teach in an engaging way to make sure that we are always getting better 🙂 Thank you for the awesome class."Natalie Hill, from South Africa
"Strong capabilities from Javier and Gaby to coach and motivate all tennis players from beginners to advanced players. Why? Very good tennis skills (theory & practise), friendly and open-minded (international courses mixing easily players from all countries), flexibility of courses (pay as you go)."Jean-Charles Spanelis, from France
"Both Gaby and Javier are excellent and professional Tennis coaches. They don't just teach you the techniques, but also transfer their passion of tennis to you too. The class is fun, motivated and with a very flexible timetable. No matter what levels you are, you can adapt easily to your group. You meet great people from all over the world, while learn, train or improve your tennis skills. Highly recommended."Menglu Wang, from China
"Recomiendo las clases de Gaby y Javi a todos aquellos que nunca han jugado al tenis como los que ya tienen cierto nivel, para los que no disponen del tiempo suficiente o tienen una vida laboral intensa ya que hay flexibilidad de horarios y también accesibilidad con varios clubs en la ciudad , para las personas que llegan a vivir a Barcelona y hablan poco castellano pero quieren practicar este deporte, ellos explican la clase también en ingles, para los que , además , quieren integrarse con un grupo de gente divertida y pasárselo bien e ir viendo el progreso clase a clase, Fit In Tennis es el lugar!"Yesica, from Argentina