Check out this tabata workout to improve your cardio endurance.
This tabata fitness workout for tennis players is focused on improving your cardio endurance and increasing your pulmonary capacity. The two previous tabata routines were focused on
lower
and
upper body
workouts with tennis-specific exercises which we did on a tennis court. In this video, Gaby is doing 8 intense exercises off-court meaning you can do them anywhere. She also shows you some variations for each exercise and how to make them easier or more complicated depending on your fitness shape and goals.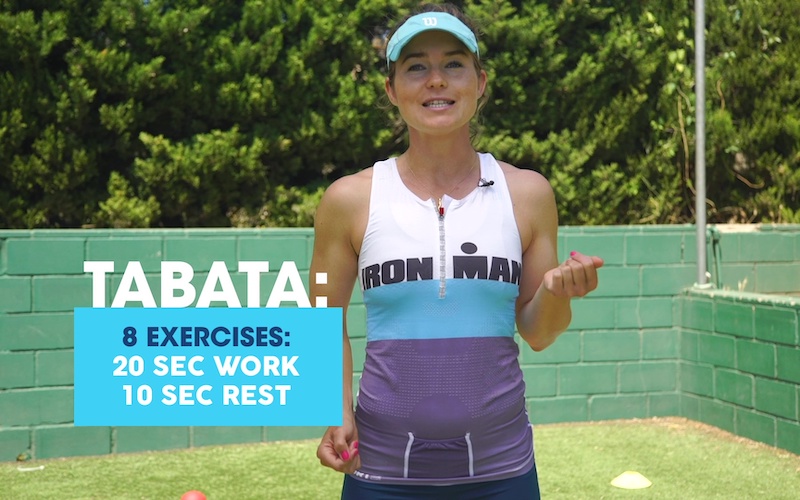 Tabata is a Japanese military style high-intensity interval training (HIIT) workout, featuring a mix of aerobic and anaerobic exercises. One set of eight drills takes 4 minutes to finish as you are working out for 20 seconds and taking 10 seconds to rest and prepare for the next one. Between the sets you can sip some water and relax for 1 minute. Repeat it six times for a 30-minute tabata training session.
Check out this tabata workout to improve your cardio endurance.
Why is tabata good for tennis players?
A tennis match has a very similar structure to tabata workout. A tennis player plays one point at maximum intensity and the point usually lasts less than 20 seconds. It is followed by a short break between points which in tennis lasts exactly 20 seconds. During that time players have to quickly bring their heart rate down to normal. Working at 10-second breaks in tabata prepares you for better recovery times. A game in tennis lasts approximately 4 to 8 minutes and there is a longer rest between games. And in order to finish 2 sets a player has to play between 12 and 26 games. A tennis match can last for 2 to 3 hours and tabata is a great way to create the cardiometabolic adaptations similar to HIIT rather than moderate-intensity continuous training (MICT).
The equipment Gaby is using in this tabata includes a mat, a skipping rope, a cone and a small 1-kilogram heavy medicine ball. For variations she suggests adding a loop elastic band and a tennis ball. Nevertheless, you could perfectly do the whole workout without any equipment.
Tabata workout increases both anaerobic and aerobic capacities!
In this video Gaby is doing 8 exercises, each for 20 seconds with 10-second rests between them. Each exercise has a different objective. The first exercise where she is doing squats and boxing arms helps warm up the arms and legs. The exercises where Gaby jumps forwards, sideways or uses the skipping rope will improve your leg explosiveness. Burpees and mountain climbers are great for muscular endurance.
We love doing tabata with our players and seeing them sweat during our fitness sessions!
Check out this tabata workout to improve your cardio endurance.