Today we are using Bosu Ball to improve dynamic balance and stability on a tennis court. These fitness drills are specially designed to help develop a player's dynamic balance and tennis footwork. In tennis, every shot starts with the feet and the right stance. If you are well positioned to hit the ball, you have more chances of hitting it right in the sweet spot. Moreover, you will be able to transfer your bodyweight forward into the ball and generate powerful shots.
Check out those exercises to improve dynamic balance on Bosu Ball.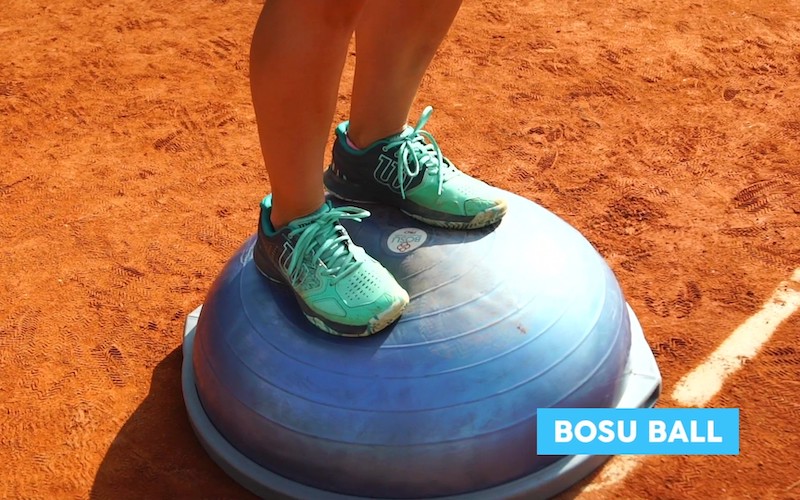 The Bosu Ball forms a staple part of
many of my training exercises
due to its special design, specifically targeting
core strength
and balance, which are absolutely essential skills for any modern tennis player to master. Standing on its rubber half-dome increases the difficulty and effectiveness of any exercise by forcing you to activate your core muscle groups. But the Bosu can also be flipped - standing on its rigid platform creates an even more unstable surface for training static and dynamic balance and stability. This will help improve your footwork once you're back on the tennis court, and
enhance your coordination
, making your shots more controlled and effective.
Accessories: tennis racket, tennis balls, drawstring bag
Check out those exercises to improve dynamic balance on Bosu Ball.
Apart from the Bosu Ball I am also using a tennis racket, tennis balls and a drawstring bag. When we put a drawstring bag around the tennis racket head it will create some air resistance when swinging it, therefore making the forward swing a bit harder to do.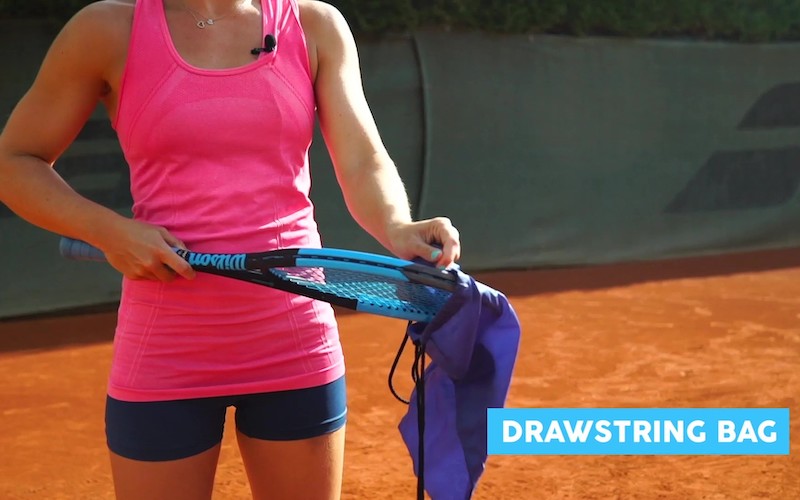 A good tennis player has a good stability and balance!
In this video, I show you 17 exercises performed on a Bosu Ball. Some of them are designed to improve your tennis stances, such as an open stance, and stay balanced when swinging the racket and hitting the ball. I am practicing each shot separately, including forehands, backhands, volleys, serves and drop shots. There are also some exercises focused on strengthening my main leg muscle groups as well as ligaments in my knees that keep my body stable.
Check out those exercises to improve dynamic balance on Bosu Ball.
3 sets of 10 reps, 30s rest
3 sets of 10 reps, 30s rest
Split step jumps and stroke motion
3 sets of 10 reps on each side, 60s rest
3 sets of 10 reps, 20s rest
One-leg jump and forehand attacking stroke
3 sets of 10 reps on each side, 60s rest
One-leg jump and backhand attacking stroke
3 sets of 10 reps on each side, 60s rest
3 sets of 20 reps, 20s rest
Practice hitting balls with bounce
3 sets of 20 reps, 20s rest
Right leg defence stance on forehand
5 sets of 10 reps, 60s rest
Left leg defence stance on backhand
5 sets of 10 reps, 60s rest
Right leg attack stance on forehand
5 sets of 10 reps, 60s rest
Left leg attack stance on backhand
5 sets of 10 reps, 60s rest
Ball throws and catches - no bounce
2 sets of 1 min each exercise, 20s rest
Ball throws and catches - with bounce
2 sets of 1 min each exercise, 20s rest
Ball throws and catches - alternating
2 sets of 1 min each exercise, 20s rest
Squat and stroke motion - forehand
3 sets of 10 reps on each side, 60s rest
Squat and stroke motion - backhand
3 sets of 10 reps on each side, 60s rest
Forward lunge and torso rotations
3 sets of 1 min, 30s rest
Cross-over step and stroke motion
3 sets of 1 min, 20s rest
5 sets of 10 reps on each side, 60s rest
5 sets of 10 reps on each side, 60s rest
5 sets of 10 reps on each side, 60s rest
Serve and pronation - pronation for flat serve
2 sets 1 min each exercise, 20s rest
Serve and pronation - pronation for kick serve
2 sets 1 min each exercise, 20s rest
Serve and pronation - serve motion
2 sets 1 min each exercise, 20s rest
Serve and pronation - on your knees
2 sets 1 min each exercise, 20s rest